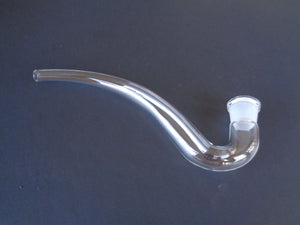 18mm Borosilicate glass J Hook. These J Hooks are very well made and sturdy. They work great with any 18mm adapter or bowl
5 star J-hook
Man this is a nice j-hook. It's only a few more dollars than a generic china glass one, and it's so worth it. It's a very fair price for what you're getting.
For me it's a perfect shape and size and the finishing is nice. No kinks or angles in the bend, it's just perfect. And the lip is a great size and finish.
Now that I've seen the quality of this full-size one, I will get TRWW's mini 18mm j hook too. It's cool to have 2 different size options with 18mm joints. As a flower smoker, 18mm is the only spec I want.
I would love to have a variety of j-hook shapes and sizes.
Adorable but kind of impractical
It's a fun way to use the smokestack but, at least for the shape of my face, it would be better off a little longer and lower so I could see the bowl. Very tasty way to do it and not nearly as hot and harsh as I expected this to be considering how adorably small it is!
Great piece, great value.
It was smaller than I was expecting (for some reason 😅), but quickly became one of my favorite pieces. Great for vape flavor and making edibles with the condensation.
I do a Mexican style hot chocolate with mine. Tastes great :).
Smudgy but spectacular.
This Jhook is wonderful. The shape makes for a very easy pull. I know, "a pipe is a pipe" right? Not here. The shape is very well designed. And the angle of the mouthpiece spreads the vapor over your tongue as you inhale, just enough to give you good flavor without creating a hot spot on your tongue. That wouldn't be a real concern anyway though, because this thing cools vapor so much that it actually feels cold. Weirdest thing, it's like inhaling fresh air on a winters day. Awesome.
The j hook itself looks very elegant and seems relatively sturdy.
My only complaints are, I'd like it to come with a stand, I'd like it to be a bit thicker, and, the glass smudges easily during use. All in all, for the price I think this is about as good as it gets. You probably won't find a comparable j hook, unless you spend a *lot* more money.
Great piece
It cools down the hits, but I put some water in it to make it a bubbler and it works surprisingly well.