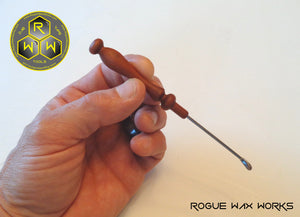 Bees wax and walnut oil rubbed wood handle dabber, dab tool with stainless steel tip. Wood will be chosen at random

Hand crafted in Oregon
The tool you need more than you think
Perfectly sized for scooping goodies for your Cricket
Great little scoop...
This was ideal for kief and some of the more powdery bubble hash that I run across. Really great deal for $9 with a nice cherry wood handle.
Multi Purpose
I use this as the perfect stir tool for an injector bowl on a Cannahardware rig. Tool also has the nice tamper end for the same bowl. Love it! Bought an extra for the day I loose it.